learn more
Looking to increase your business ROI? Learn more
Innovative Job Management & Dispatching Software For Field Service Businesses
Ever wonder if your business could be even better? TRYOUP is a revolutionary job management software that tracks advertising, calls & sales for seamless, precise performance data. Accurately measure marketing spend, sales agents' performance and provide your field service business with the opportunity to make the most return on investment.
down-pointer
HI, WE ARE TRYOUP AND WE HELP YOU UNDERSTAND YOUR BUSINESS BETTER!
ROI

SUCCESS DEPENDS ON

CONVERTING LEADS

INTO INVOICES.
WE'VE SHORTEN THE ODDS IN YOUR FAVOUR...
BY MORE EFFECTIVE BUSINESS TRACKING...
TO CONVERT LEADS AND
REDUCE JOB COSTING...
WHILE EXPEDITING YOUR
RESPONSE TIME...
SO CUSTOMERS RECEIVE
THE VERY BEST SERVICE...
AND YOU SEE LIGHT AT THE END OF THE SALES FUNNEL.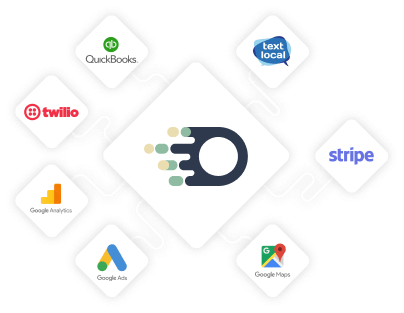 Tryoup works with
the best in class integrations
Tryoup is integrated with multiple best-in-class solutions to help you grow and tune your business. Leveraging the extent of leads, sales and marketing to all-in-one solution.
Simply improve in-sights into business performance by collecting and aggregating the right data from the right sources.
An effective field service business relies on informed decision-making.
Tryoup's job management tools help you increase your business productivity and selling power.
Here are the 3 bonus features that you can benefit from when you use our software.
On the right track
Track inbound leads and calls from multiple telephone numbers, websites and landing pages. Interpret a customer's journey from social media through to organic search and digital discovery. Embrace the value of print and outdoor advertising as Tryoup tracks offline marketing activity and initiatives.
Made to measure
Your company data is sliced, diced and presented in smart, selected widgets and graphic visuals with real-time business analysis and instant value. Accurately measure marketing spends, sales agents' performances and give your business an optimum return on investment.
Optimise ROI
Get the bigger picture from information gathered day in day out as Tryoup delivers the data crunching power to make your company's important business decisions.